Suffering from the data loss of your websites after malicious hacker or other improper operations? The best website backup solutions will figure it out.
Why you have to backup your Website immediately?
As a webmaster, you might have encountered with data loss of your website FTP or database, or you are the lucky ones who have not suffered the loss of website data. Apparently, it's emergency for you to make all the data on website safe. However, your dream could be broken by malicious hacker, natural disaster, or other destruction. Perhaps the website just broke after installing a faulty plugin, theme or add-on, or the hosting just failed, you will suffer the pain from the data loss on your website. How to get rid of this suffering and restore your website to previous time point? The Website backup solutions will help you out.
Website Backup Solutions
Generally speaking, you could use website backup plugin or website backup script to do full/automatic website backup. However, you will find these tools are quite complex or cannot meet your demands for data security. Is there any better website backup solution apart from website backup script/plugin?
Obviously, we will show you the best free website backup services-AOMEI Database Backupper, which is a powerful website backup software.
How to backup a website easily and securely with a few clicks?
The best free website content backup solution-AOMEI Database Backupper, which is a software as a service (SaaS)-based online data backup program that allows you to backup websites (FTP/SFTP) as well as database (MySQL) to the cloud drive. You will get more features in the short run. It supports any devices and any operating system like Windows, Linux, Apple IOS, Android, and so on due to the web-based property. It will provide you the best way to backupwebsite.
You could access the freeware with ebackupper.com.
First of all, you have to sign up (free) an AOMEI Database Backupper account. Then log in your account to use AOMEI Database Backupper to backup your websites.
In order to backup website, the steps are listed below:
Step 1: Click Website Backup at the tool bar.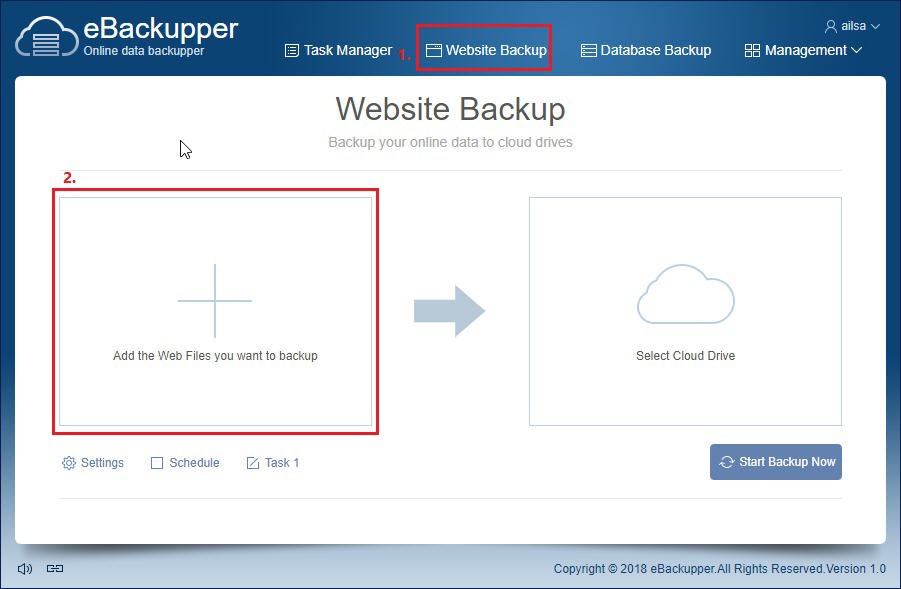 Step 2: Click on Add the Web Files you want to backup. You will be prompted by a dialog box if you have not added source website, hit OK to add your website.

Step 3: Tick Add Website Source. A window shows up to connect FTP/SFTP: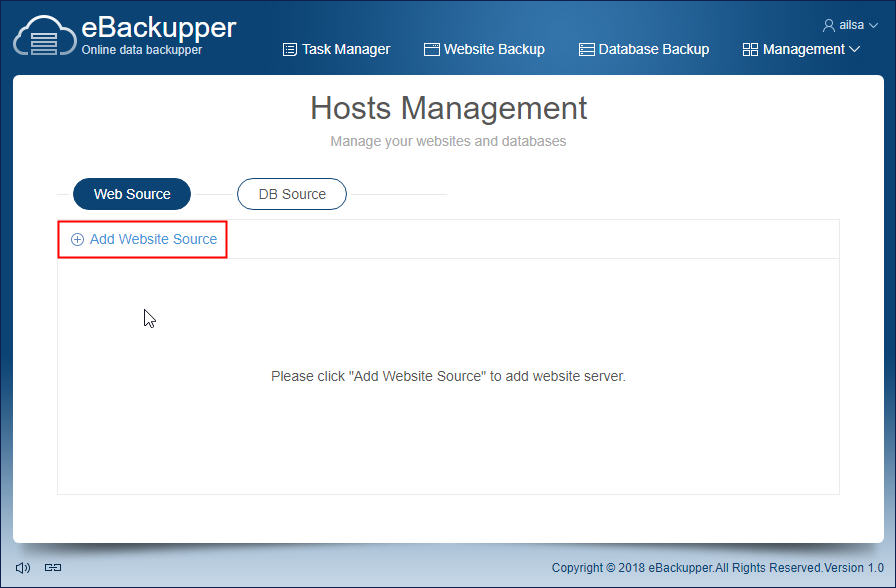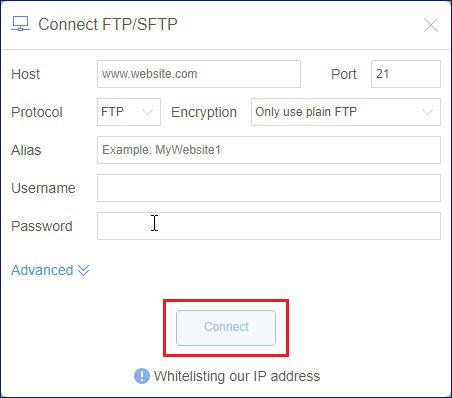 Host: Input domain name or server IP address.
Port: 21 for FTP, 22 for SFTP usually, sometimes are different.
Protocol: FTP/SFTP, you could choose one of them. FTP has three encryption: only use plain FTP; Require explicit FTP over TLS; Require implicit FTP over TLS. And for SFTP, there has two Logon Types: Normal or Key File.
Alias: Input a name for your website backup task.
Username and Password: Enter the appropriate username and password for the site.
Step 4: After input authorization information and click Connect button to add your website.
Step 5: Then At the step 2, you could choose all the web files to backup including the subfolders or the files you would like to backup, and click OK.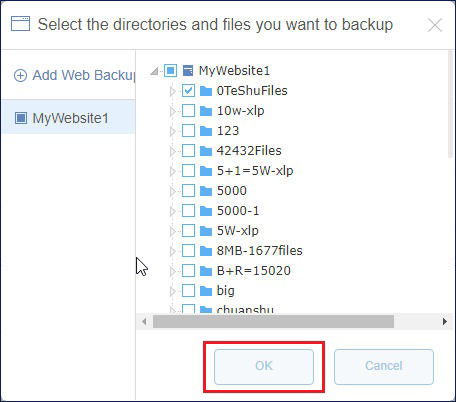 Step 6: Press Select Cloud Drive button to choose a destination to store website backups. Please tick Add Cloud Drive to add clouds if you don't have added one.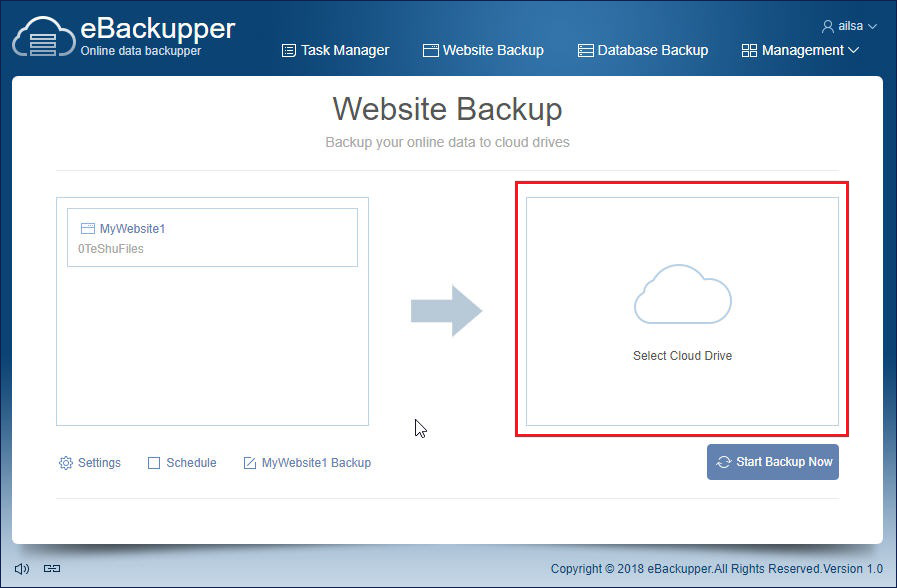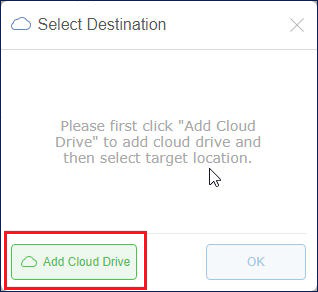 Step 7: choose Google Drive and hit OK.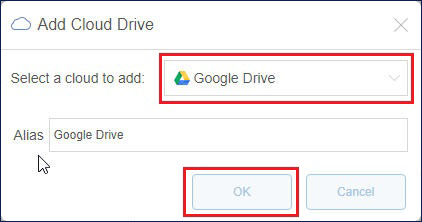 Tips:AOMEI Database Backupper supports many clouds, including Google Drive, Dropbox and OneDrive and so on.
Step 8: At the step 6, you could choose Google Drive as your destination to save your website backups.
Step 9: Press the button named Start Backup Now to backup website with the best free website backup solution.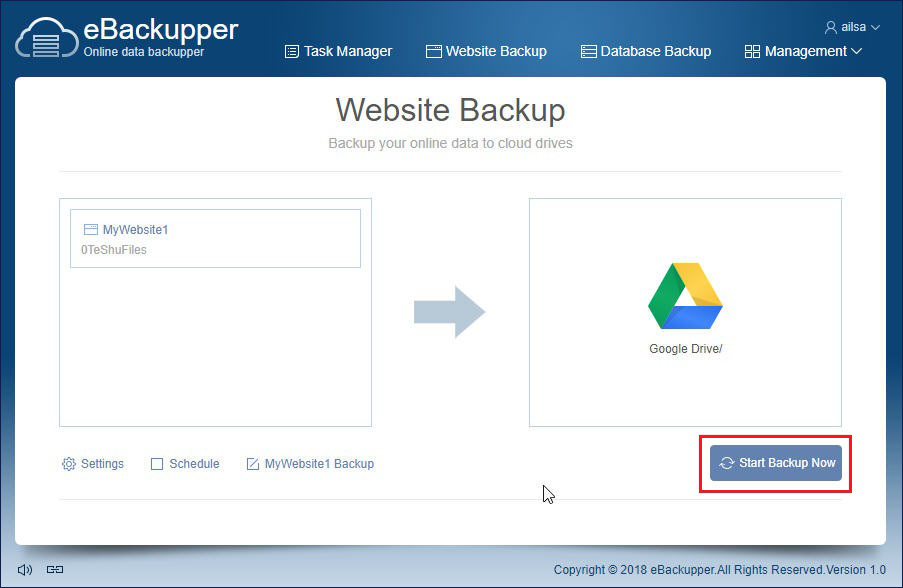 After that, you have created a backup copy for your website to Google Drive with the best free website backup solutions. You could quickly and safely restore your website/database backup to the original place or other destination. It's worth saying that the websites/databases connect and data transfer using 256 bit AES encryption for SSL, Access your cloud drives with OAuth authorization. Thus, you can rest assured of the use of AOMEI Database Backupper. Besides, AOMEI Database Backupper can achieve automatic schedule backup, backup multiple websites/databases to one drive in one task etc.