Summary: This tutorial will show you the best way to create a database backup MySQL, you can also restore the MySQL database from the backup when you need.
It is important to create database backup MySQL
If you are storing anything in MySQL databases, you'd better create a MySQL database backup to protect it from loss. There are so many reasons would cause the MySQL database damaged or loss. If you have database backed up MySQL before, you can restore it to the earlier state. Thus, it is important to backup your MySQL database to another place.
Backup MySQL database to cloud drive is a common way for users. But how to backup a MySQL database to cloud drives?
The best database backup tool - AOMEI Database Backupper
If you do not know how to create database backup MySQL, you are fortune to read this tutorial. here we will introduce you the best database backup tool - AOMEI Database Backupper.
AOMEI Database Backupper is a backup tool produced by AOMEI Tech. It is an one-click backup software that especially designed for backing up your valuable websites and databases to your own cloud services like Google Drive, OneDrive, DropBox, etc. At the meantime, it also provides you the safe way to restore them back to you from any time point.
To backup MySQL database with AOMEI Database Backupper, you need to get into their official site first, then, sign up for free or sign in directly if you have an account.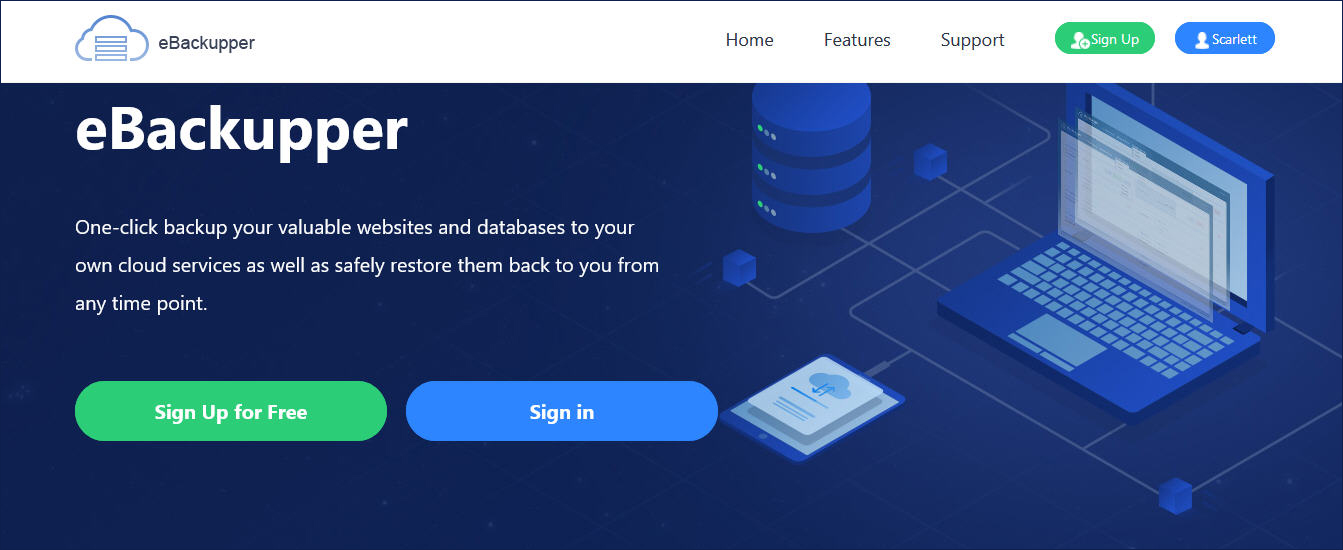 *Create AOMEI Database Backupper account only needs an Email, User name, password. It is very simple and easy. After input all information, you need to get into your email to active it.
After activity, you can sign in with your AOMEI Database Backupper account to use this database backup software. And you can backup database to cloud drive with the following steps.
Step 1. When you sign in to the AOMEI Database Backupper, it will show you the main interface. The database backup MySQL needs you to click Database Backup in this page, like the following screenshot.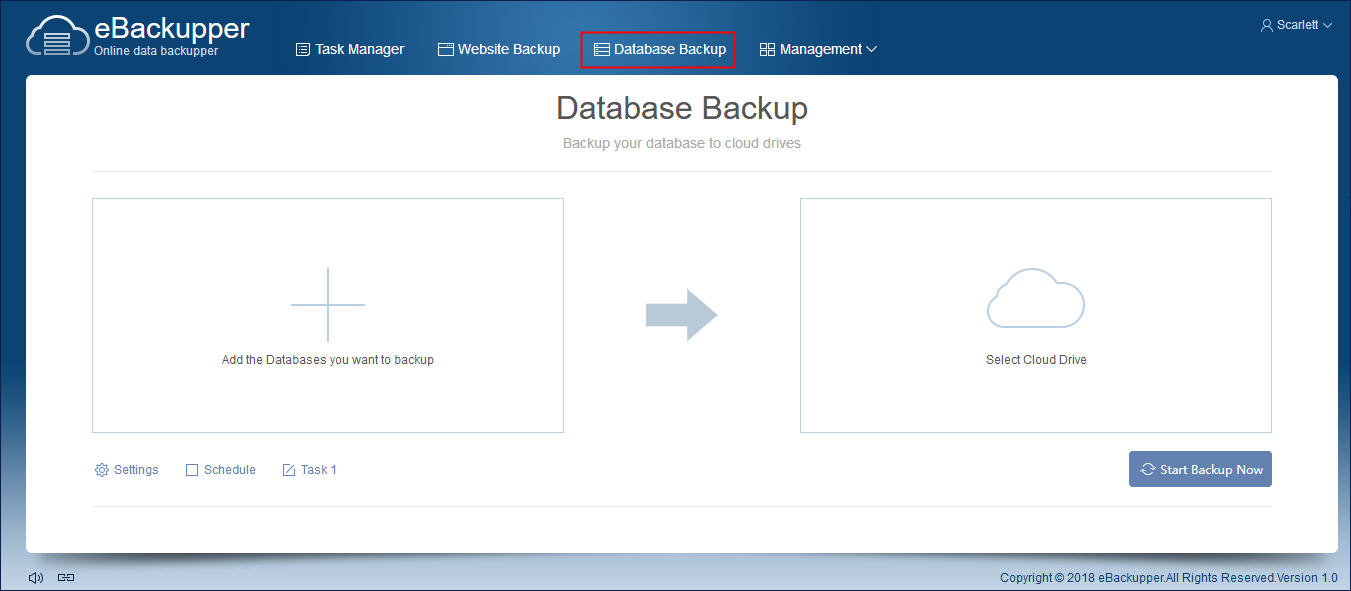 Step 2. Next, you should add the database you want to backup. Click the + box, it will pop-up a note that reminds you: No source website/database added yet. Please first add source website/database and continue. Click "OK" to add website/database.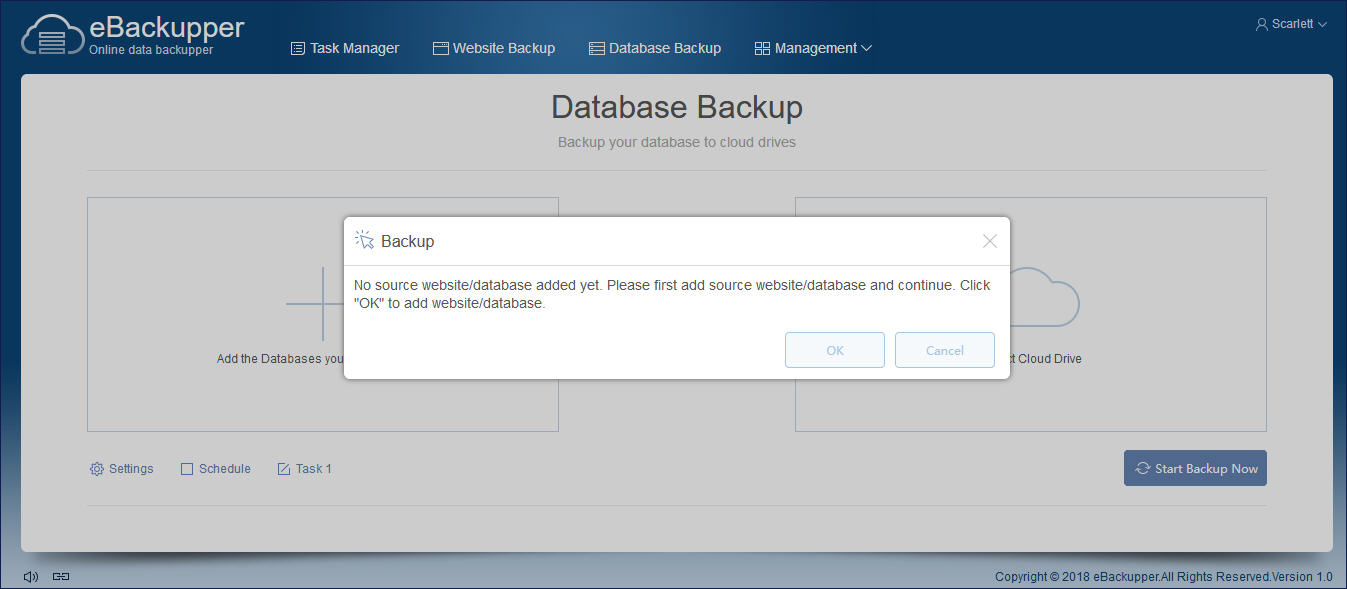 Step 3. You will move to the Host Management. Choose DB Source -> Add DB Source.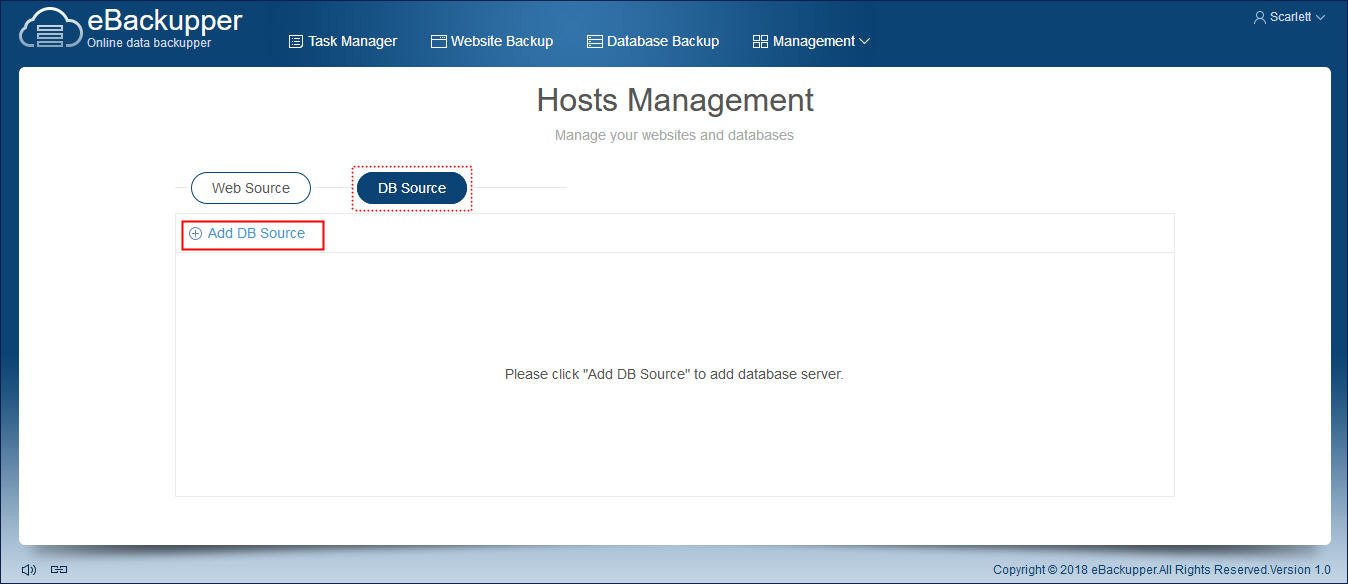 Step 4. Input the Host information, user name and password. Click OK.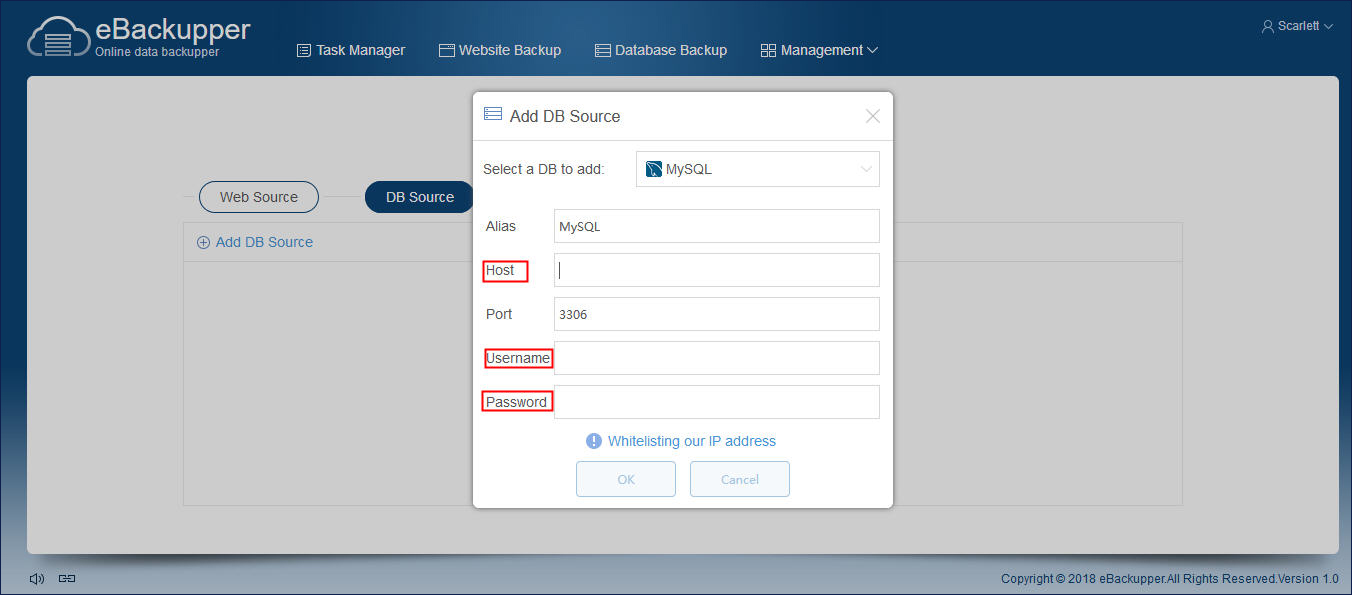 Step 5. After adding DB Source, you need to select Database Backup again. Click Add Databases you want to backup, and select the database you want to backup. You can select a part of database, or make a whole database backup MySQL, click "OK".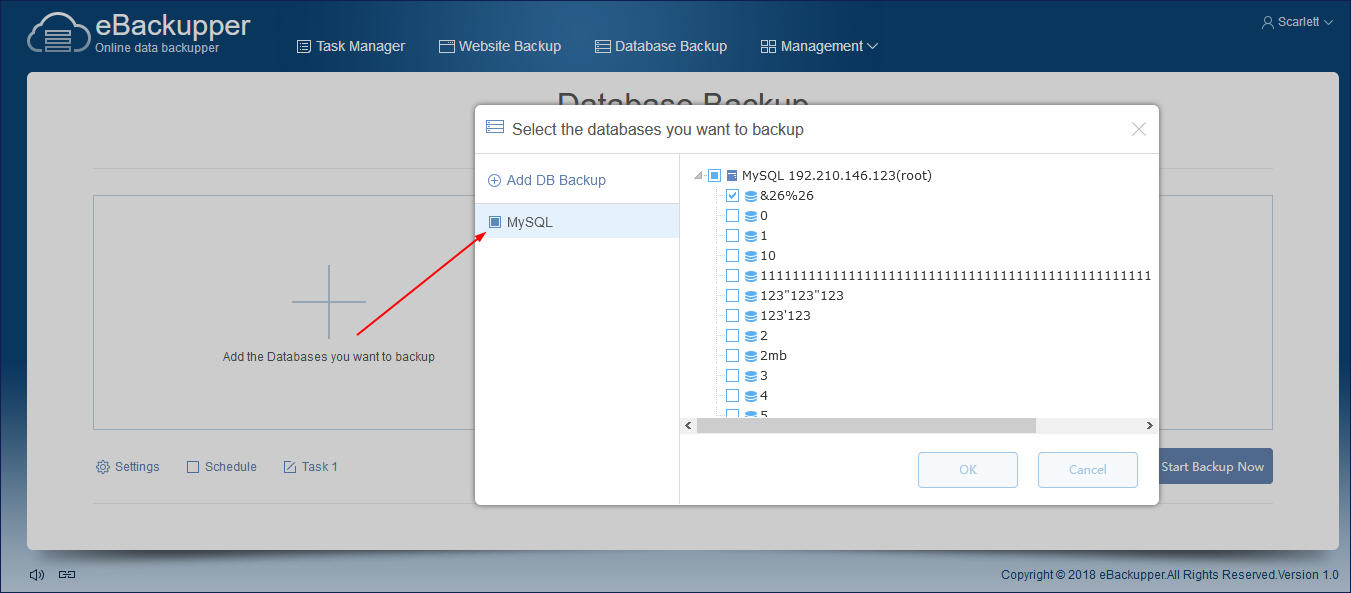 Step 6. Next, you can click Select Cloud Drive to choose where to backup MySQL database. If you have add the cloud drive before, you can select it directly. If not, click Add Cloud Drive to add Google Drive, Dropbox, OneDrive and so on to AOMEI Database Backupper. Here we select Google Drive as the destination drive.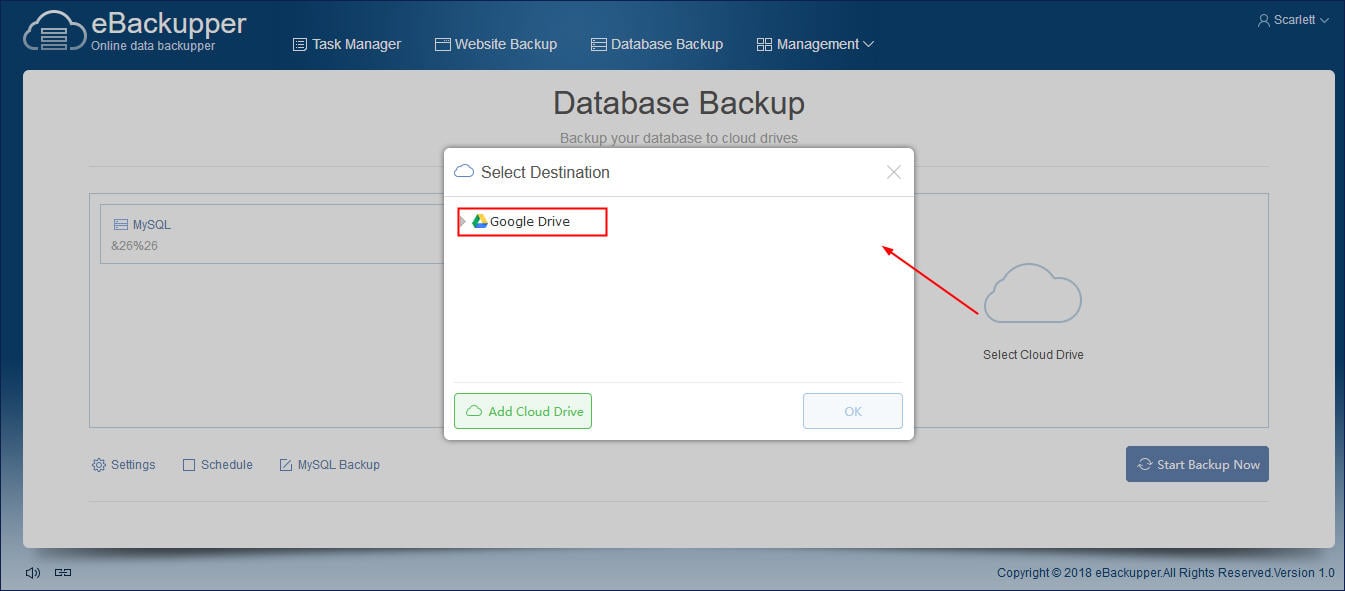 Step 7. After choosing a destination place, you can click Start Backup Now button to execute the task.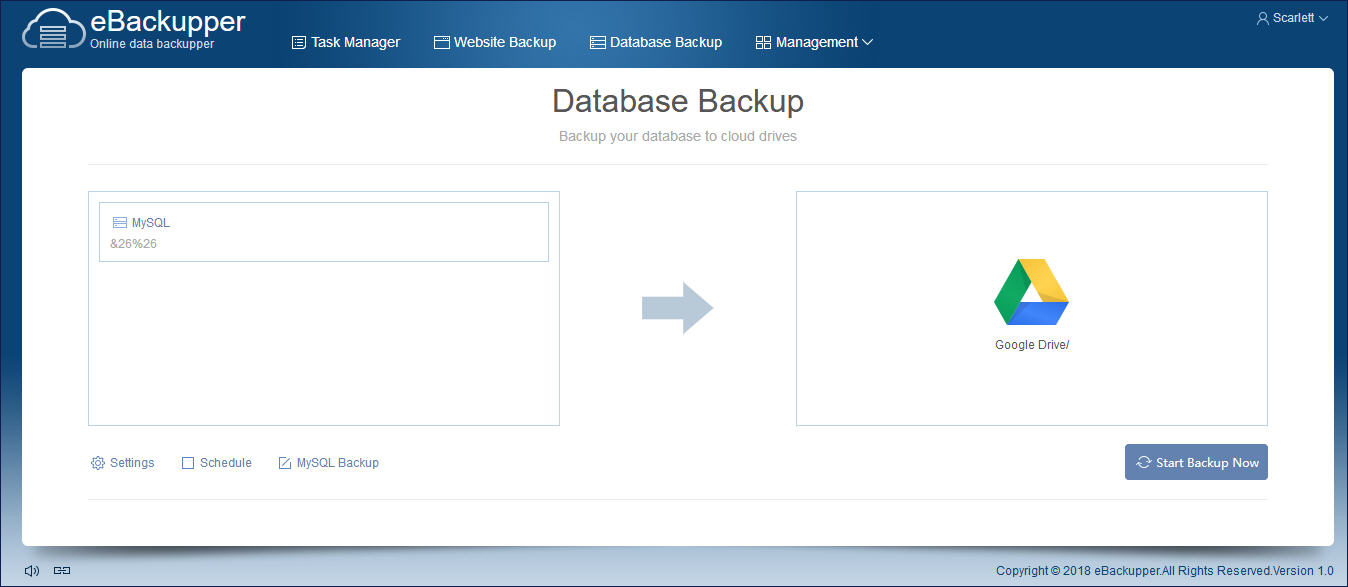 Notes:
You can click Settings to set an email notification.
Schedule option allows you to set up an automatic MySQL database backup to cloud drive for daily, weekly, monthly.
The third option is for you to edit the task name.