Summary: Want to backup FTP to Dropbox, Google Drive, OneDrive? This article will introduce you the simplest way to backup FTP to cloud drives easily.
Scenario
"I have some websites that I need to back up daily, right now I have to go to my FTP every day to grab the backup then upload it to Google Drive. But is there any more convenient way to do it?"
This is a common problem for users. And many users uploading direct to Dropbox server via FTP, which is wasting time. FTP to Dropbox backup technique is one of the most popular implementations of cloud technologies to mirror, backup or remote-administering website content or other FTP information. Automating this process is a way to save many time and efforts. And here, in this article, you'll find the best way to backup FTP to Dropbox, or other cloud drives fast and easily.
Method of FTP to Dropbox Backup
To Backup FTP to cloud drives such as Dropbox, Google Drive, OneDrive, etc, you can use the freeware AOMEI Database Backupper to make things easier.
AOMEI Database Backupper is a software as a service-based online data backup program, which can completely saves you from online data loss. This software enables you to backup websites (FTP/SFTP) as well as databases (MySQL) to your own cloud drives.
To backup to Dropbox, you need to prepare for it:
Get into the official site of AOMEI Database Backupper, click Sign Up for Free to get your own AOMEI Database Backupper account. You can sign up with an Email account, which is very easy. After sign up, you should get into your email to active your account. Then, back to AOMEI Database Backupper to sign in.
After activity, you can sign in with your AOMEI Database Backupper account to use this website and database backup software. And you can backup FTP to Dropbox with the following steps.
Step 1. When you sign in to the AOMEI Database Backupper, it will show you the main interface. To backup FTP, here you need to click Website Backup -> Add the Web Files you want to backup.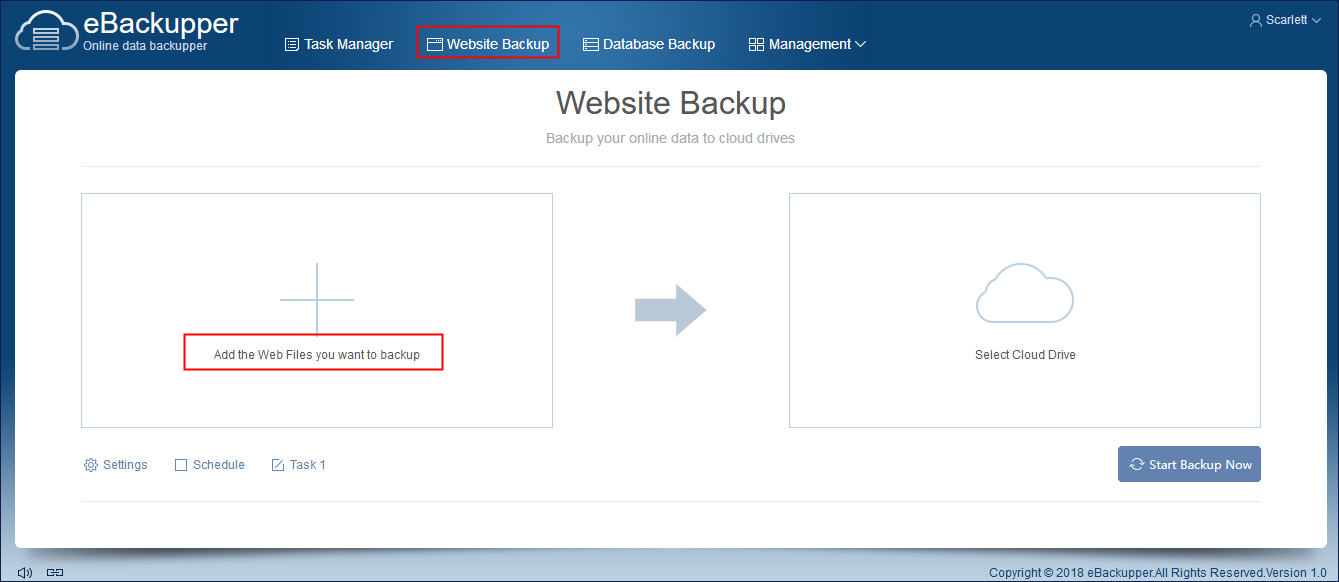 Step 2. Next, Connect the FTP to AOMEI Database Backupper. You can choose Encryption type here.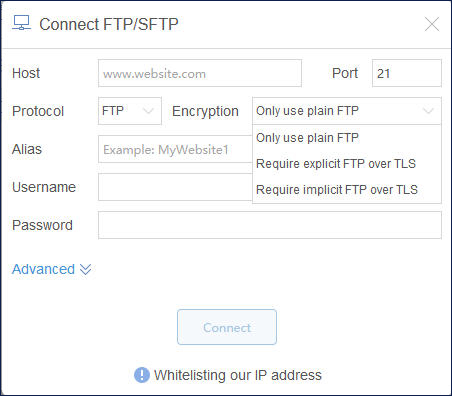 Step 3. When you get back into Host page, you can click Add the Web Files you want to backup again to add files/folders you want to backup from FTP to Dropbox.
Step 4. Then, you need to add Dropbox (or other cloud drives) as the destination. Click Select Cloud Drive - Add Cloud Drive. Then, select Dropbox in the drop-down menu of the pop-up window.
Step 5. After choosing the destination place, you can click Start Backup Now button to execute the task.
Notes:
You can click Settings to set an email notification.
Schedule option allows you to set up an automatic FTP to Dropbox backup for daily, weekly, monthly.
The third option is for you to edit the task name.