Is there any free automatic backup website software to backup website automatically instead of plug-in backup or script backup? This article will offer you the best solution.
The Necessity of Website Backup
With the development of technology and digital information, the data of a website is quite important for Webmaster. The data will lost forever due to the damaged server hard drive, malicious attacks or other irresistible natural disasters, etc. If you haven't backed up your website data, it could be a catastrophe for a company or customer after floods or mudslides. Thus, it's emergency to do automatic website backup.
For most of webmaster, backup data manually will cost a plenty of time and energy; or using a script backup written by hand is quite more complex; or the plug-in backup quality varies. Is there any automatic website backup tools could help webmaster to figure it out with simple clicks? The answer is positive.
The best automatic website backup software-AOMEI Database Backupper
Rather than using a plug-in backup, or a script backup written by hand, AOMEI Database Backupper are more convenient to backup your website. AOMEI Database Backupper is a free web-based online data backup program, which allows you to backup your valuable websites (FTP/SFTP) and databases (MySQL) to your own cloud drives as well as safely restore them back to you. With such an insurance, webmasters can safely manage your online websites and database, etc. Besides, the intuitive interface and easy-to-use features of AOMEI Database Backupper will help you out.
How to achieve automatic website backup via AOMEI Database Backupper?
To easily use AOMEI Database Backupper, you have to create an AOMEI Database Backupper Account first, add website source and cloud drives to AOMEI Database Backupper, then automatically free backup website (FTP/SFTP).
Create AOMEI Database Backupper Account first
Please input ebackupper.com in Explorer search box and hit enter. You have to sign up first, and you will receive an email named activate your AOMEI Database Backupper Account, please commit the registration and then you could log in AOMEI Database Backupper.
You will be prompted by some new added features notification, and then a task manager window will show up.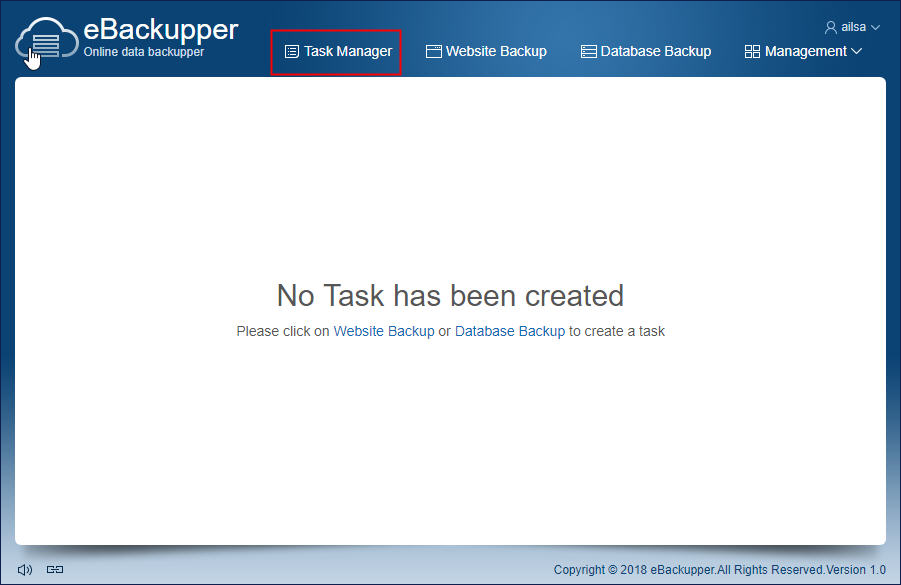 Add Website Source
1. For adding Website source, click Management->Sources->Web Source.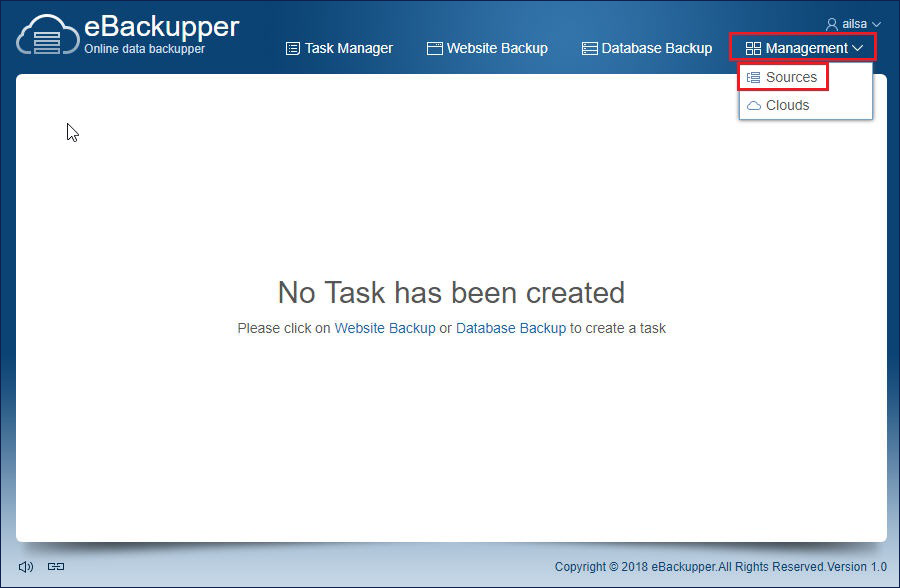 2. Then click Add Website Source to add a website.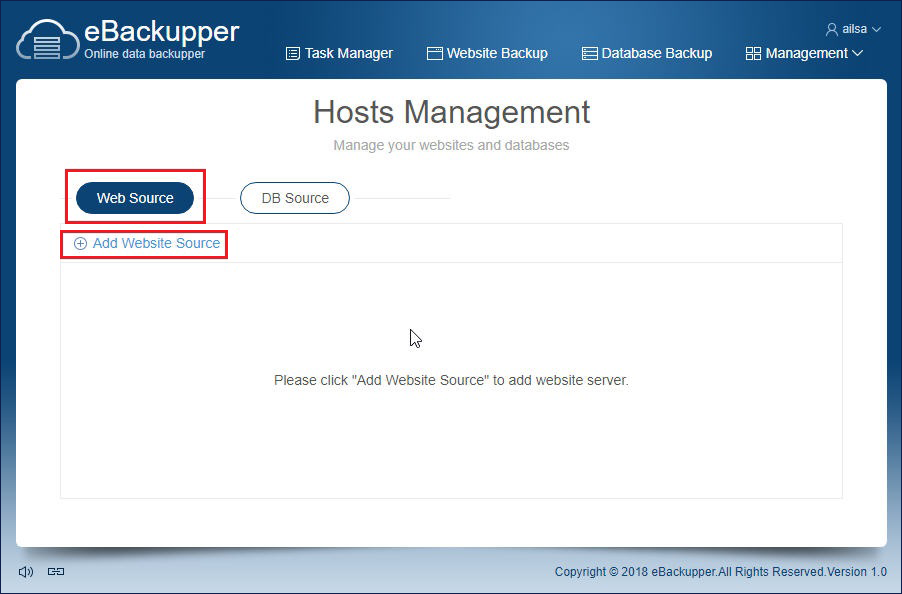 3. Then a dialog box shows up like this: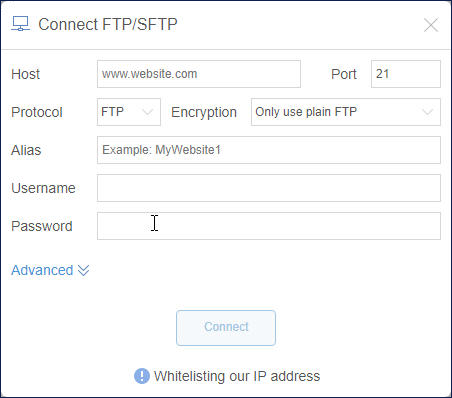 Host: Input domain name or server IP.
Port: 21 for FTP, 22 for SFTP usually, sometimes are different.
Protocol: FTP/SFTP, you could choose one of them. FTP has three encryption: only use plain FTP; Require explicit FTP over TLS; Require implicit FTP over TLS. And for SFTP, there has two Logon Types: Normal or Key File.
Alias: Input a name for your website backup task.
Input your username and password, or you could hit Advanced to specify the details.
Tip: Transport Layer Security (TLS) provides communications security over a computer network several versions of the protocols find widespread use in applications such as web browsing, email, instant messaging, and voice over IP (VoIP). Websites are able to use TLS to secure all communications between their servers and web browsers.
4. After input your Username and Password, and then click Connect. Then the website will be added successfully.
Add Cloud Drives
After adding a website source, now you could add some cloud drives to AOMEI Database Backupper to store websites and database backups. For now, AOMEI Database Backupper supports MySQL, FTP, SFTP, Google Drive, Dropbox and OneDrive, etc. Follow these steps to add a cloud drive:
1. Click Management->Clouds at the top of window.
2. Tick Add Cloud Drive.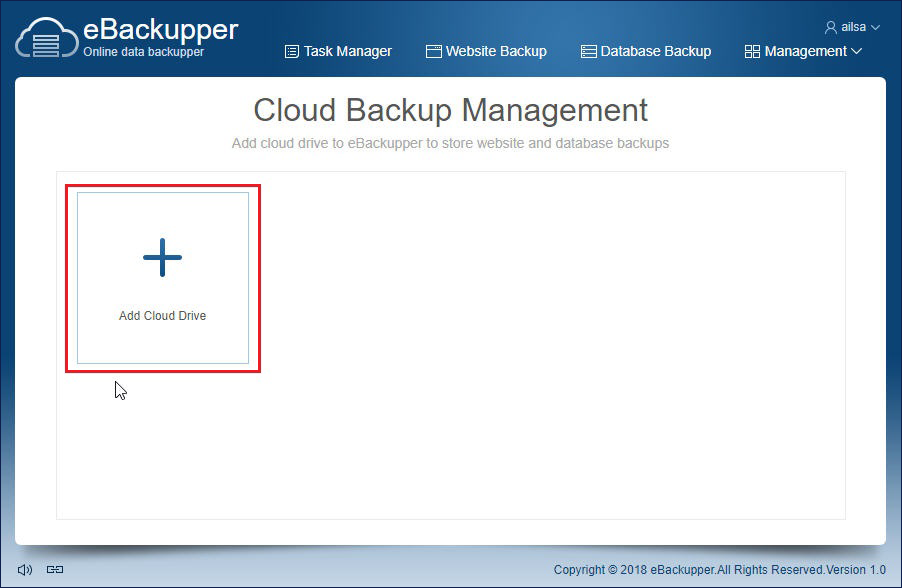 3. Choose a cloud drive and click Next.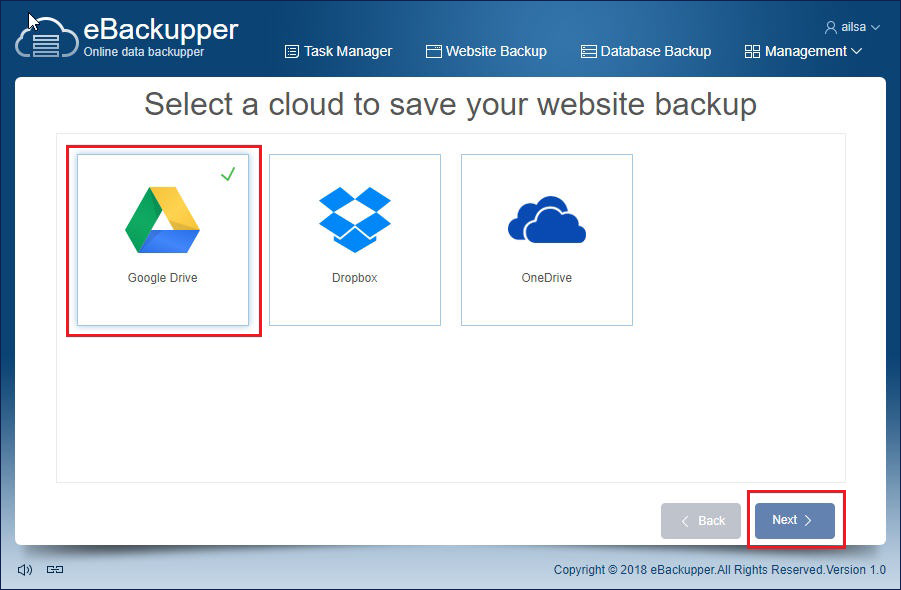 4. After typing a Display Name and hit Add Google Drive Account to go on.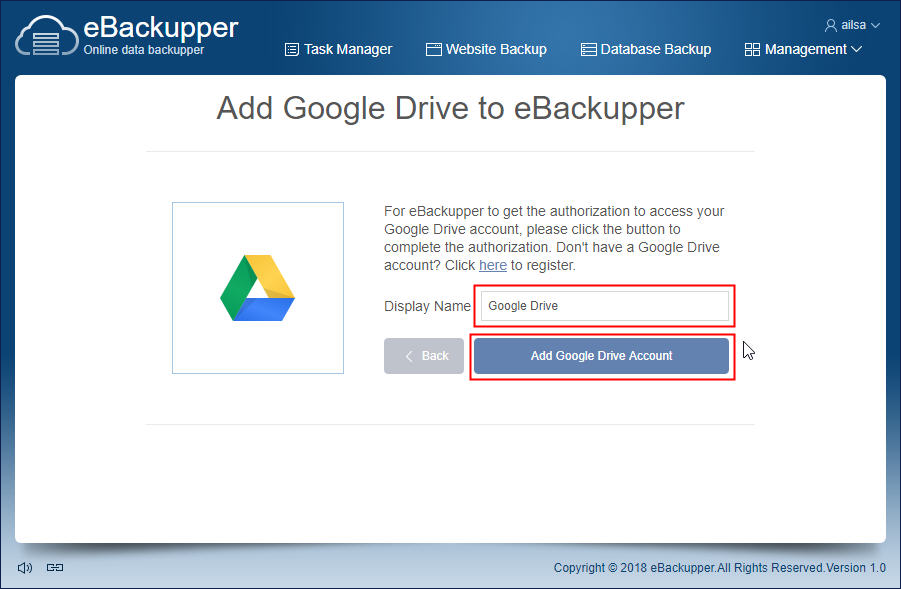 Then the Google drive will be added now.
The steps to do automatic website backup
1. In order to backup website automatically, you could click on Website Backup to create a task, a window will show you.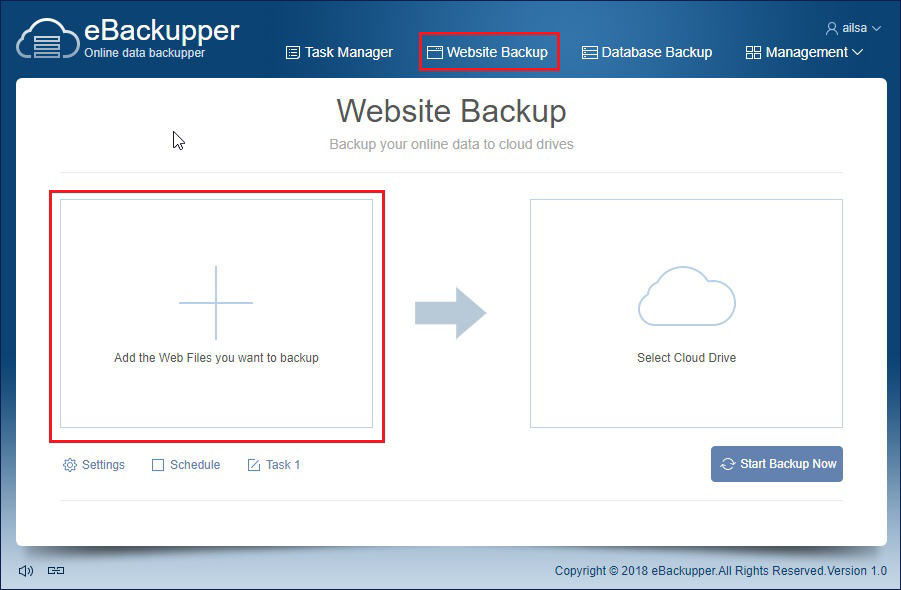 2. Click Add the Web Files you want to backup.
Tips: You will be noticed to add source website if you have not add source website yet. Hit OK to add website. Then follow the steps of Add Website Source to add your website to backup.

3. Select the directories and files you want to backup, and hit OK.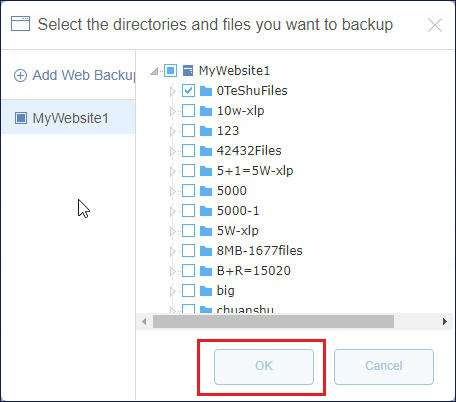 4. Click on Select Cloud Drive to choose a cloud drive.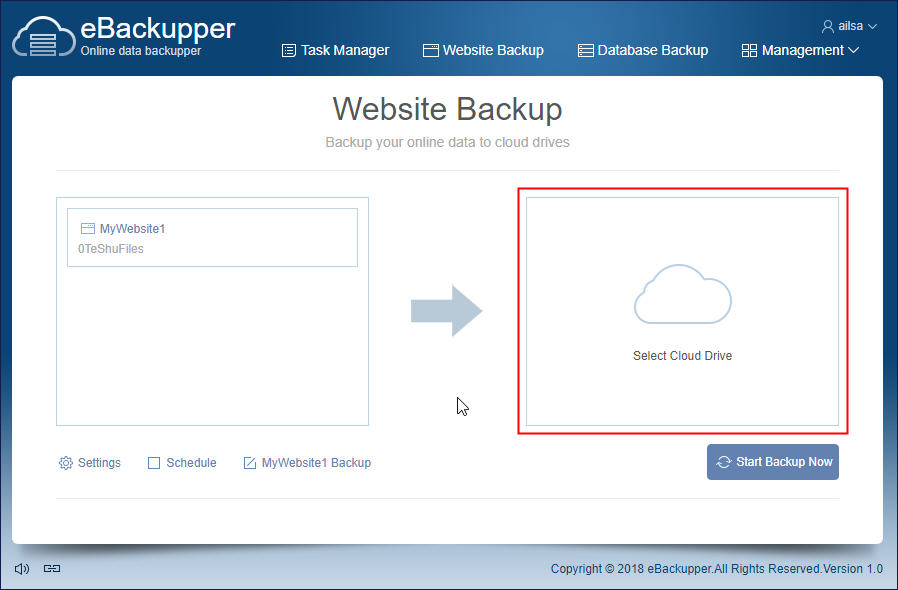 5. Select the Google Drive as your destination to store your website backup. And press OK.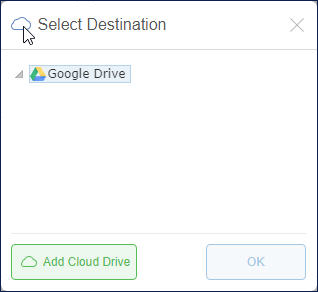 6. Then tick Schedule to set your backup to run Once/Daily/Weekly/Monthly, here we select Weekly and press Save Schedule.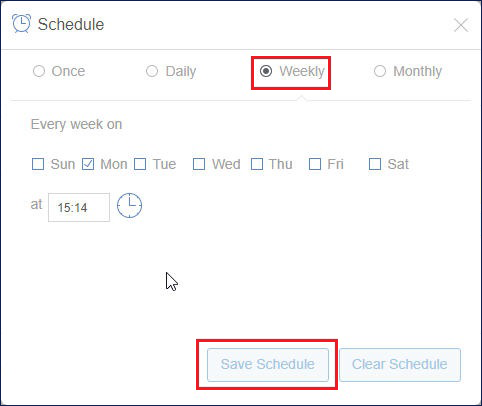 Tips: You could Enable Email Notification via Settings.
7. Press the button named Add Backup Task (or Start Backup Now) to backup website (FTP/SFTP) automatically.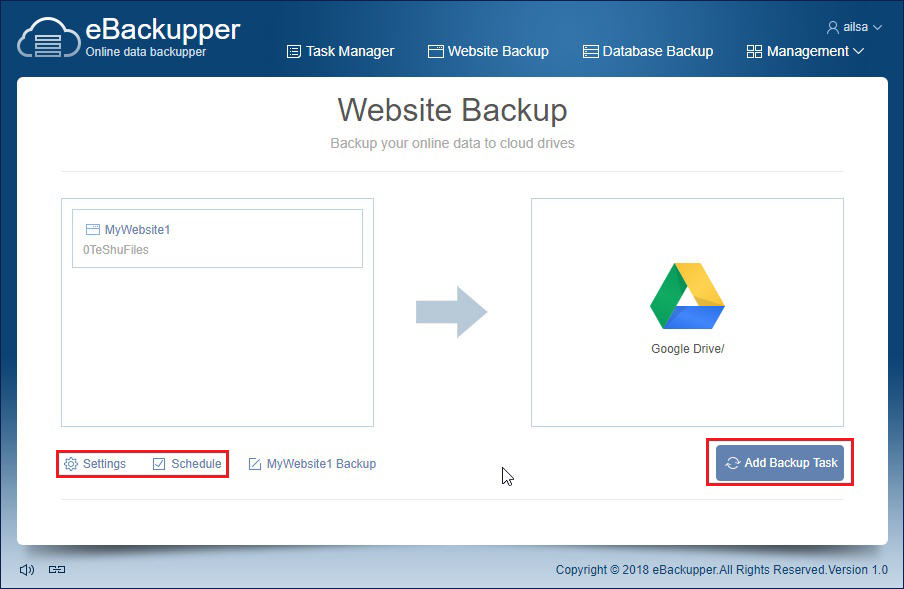 After adding the website backup task, it will run automatically at the time you setting. After these simple clicks, the automatic website backup is done. To periodically synchronize your website files, you could schedule your website backup daily/weekly/monthly. Then, you don't have to worry about the website data loss. You are allowed to restore website data if the disaster happens. Moreover, AOMEI Database Backupper allows you to download the backup files to local drive, enable email notification, and manage sources and destination clouds, and pick up the files you want to back up or restore instead of the whole website or database, etc.